A traditional Christmas begins with a real tree.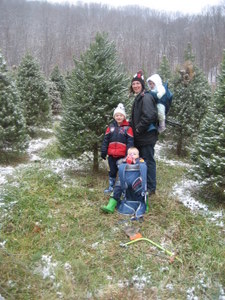 Every year, we open the farm for families to come and find the perfect Christmas tree. You can walk the fields to find and cut your own, or choose a pre-cut or dug tree nearer the fire. While you're at the farm getting a tree, make sure to go for a hayride and roast a s'more!
We currently have white pine, Norway spruce, and blue spruce growing on the farm. We cannot grow Fraser Firs in the Kentucky, but we do sell pre-cut Frasers from our fellow tree farms in North Carolina.
2017 Season Information
Open 10-5 Saturdays and 12-5 Sundays the weekends of 11/25 (post-Thanksgiving), 12/2, and 12/9.
We are also open Black Friday (11/24) 10-5.
Prices for 2017 still pending.
We're bringing the garland back! But still no wreaths and other decorations, same as last year (why?!)
We're hiding ornaments with prizes in the trees again! Just for the children this year though.
We are overstocked in big trees! If you need one for, e.g., your town center, please give us a call.
Detail oriented? You can find lots more information on trees and how we sell them here.